When a Publishing Expert Opens a Bookstore
Lynn Rosen
has viewed the book publishing business from every perspective. She has worked as an editor, literary agent, journalist, and author. I sat down with her to ask her about her latest and maybe bravest endeavor -- independent bookstore owner.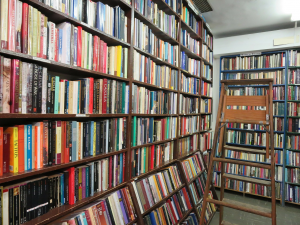 Q. Why did you decide to open an independent bookstore?
A. There were a number of influences. Taking the long view, I think my whole career has been building to this. In the years I've spent in the book publishing industry as an editor and a literary agent, the core of my work has been finding ways to bring authors and readers together. The bookstore is the place where that happens.
The precipitating factors were that a) our nearest bookstore, a Barnes & Noble, closed, and b) a nice space nearby in our neighborhood became available. Also, we have a community that supports education and the arts, and a lot of writers live here. After that it was just impulse and instinct, which led me to say to my husband, Evan Schwartz, one day: "Guess what we're doing? We're opening a bookstore!
Q. What are the biggest lessons learned in the last year? What has been easier and what has been harder?
A. Well, there are the practical lessons learned, such as that doing inventory, placing orders, and stocking books takes A LOT of time! We also learned what our core value is to the community, and that is our expertise and our specific and focused ability to recommend books and lead our customers to new reading choices. We don't just provide books for sale -- we provide a conversation around and about books. Our community has really welcomed and embraced that. Being in the store and providing that service is fun and fulfilling, which makes it easy to do. The hard part is and will always be growing our customer base.
Q: Do you feel that in-store author events and book tours are valuable for book promotion?
A. Yes, I do. I have seen over and over how excited readers are to meet authors in person, and it definitely incentivizes them to buy the book. But I think the traditional reading is a bit of a hard sell. We try to organize our events around themes, seasonal events, or fun activities. For example, we recently hosted a launch party for a new novel that takes place in London and in which the main character is a food writer, so we served tea and had a scone bake-off. It was a huge success!
Q. How do you feel about Amazon's impact on book publishing and book selling?
A. This is not my favorite question! Among the indie bookselling community in general, there is a lot of anti-Amazon sentiment, and for good reason, as I do think a big part of their goal is to quash the competition. On the other hand, Amazon provides a useful and extensive online catalogue, and they have certainly broadened the market in terms of creating full-time online accessibility to books. Do I like that they undersell me and other indie bookstores left and right? No. But they're not the only retailer doing that -- take Costco, for example. But am I willing to write them off as the evil corporate giant, end of story? I'm not.
Q. What makes your store, Open Book, unique?
A. The
Open Book
mission is to bring good books to the attention of readers and, as part of this mission, we've opened an independent bookstore. Our bookstore is unique: it doesn't try to have the breadth of selection you'll find at other retailers. What you'll find instead is a carefully curated collection of books that we endorse.
Each book we sell is a book we believe is worth reading. Most of them we've already read ourselves, so that's how we know they're good. Others are books we've researched and that have been endorsed by reviewers and readers whose opinions we highly respect. We stay away, for the most part, from bestsellers that you can easily find elsewhere, and popular books that you probably already have heard about. Instead we try to bring your attention to books you might not have found on your own. Each book in
our bookstore
is a discovery!
 © 2016 Fauzia Burke. All Rights Reserved.
Author Bio Fauzia Burke
 is the founder and president of 
FSB Associates
, an online publicity and marketing firm specializing in creating awareness for books and authors. She's the author of 
Online Marketing for Busy Authors
 (Berrett-Koehler Publishers, April 2016). Fauzia has promoted the books of authors such as Alan Alda, Arianna Huffington, Deepak Chopra, Melissa Francis, S. C. Gwynne, Mika Brzezinski, Charles Spencer and many more. A nationally recognized speaker and online branding expert, Fauzia writes for the Huffington Post, Maria Shriver and MindBodyGreen. For online marketing, book publishing and social media advice, follow Fauzia on Twitter (
@FauziaBurke
) and Facebook (
Fauzia S. Burke
). For more information on the book, please visit: 
www.FauziaBurke.com
.