Speaking
I have been speaking at publishing and writing conferences for years. If you would like me to speak at your meeting, please email me the details and I will be happy to contact you. I am open to tailoring a talk specifically for your audience.
If your book or writing group is reading my book, I would be happy to join you for a live Q&A session via Skype. Let me know if you are interested.
View my speaking schedule. If you are attending any of the conferences, please find me and say hello.
Speaking Reviews and Endorsements
"Fauzia spoke at BookExpo America in 2016 and captivated the attendees that included publishers, authors and book industry professionals. She has been speaking at BEA for many years and has consistently had the highest attended sessions. Her presentations are both useful and entertaining. Her dynamic and personable delivery makes for a fun and memorable experience for our attendees. I highly recommend Fauzia as a speaker."
—Sally Dedecker, BEA Education Director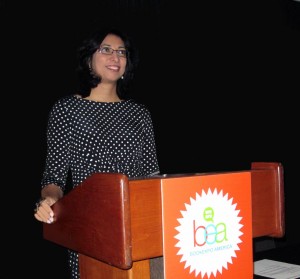 "I saw Fauzia Burke present a solo presentation at BookExpo America 2016 on Digital Tools: Making Your Online Marketing Easier and More Effective. It was easily the best one I saw at BEA."
—Jennifer Canzoneri, Marketing Director, BenBella Books, Inc.

"Fauzia Burke's pithy, whip-smart expertise in author marketing brought energy and intelligence to our Muse and the Marketplace conference. Our writers benefited enormously from her wisdom and practical guidance. I would recommend Fauzia as a speaker for any venue looking to educate writers in this tricky area of their careers!"
—Sonya Larson, Assistant Director, Muse Conference (GrubStreet)

"Fauzia Burke is one of the most effective speakers I know. She's tremendously knowledgeable and the warmth, passion and experience she brings to her talks make her pleasure to listen to and learn from."
—Michael Larsen, Co-Director, The San Francisco Writers Conference

"Fauzia spoke at IBPA's 2016 Publishing University on the topic of "Online Marketing: Creating an Effective Plan You Can Implement Right Away." Her passion for the subject matter was infectious and she created a joyful and beneficial learning experience for our attendees. Her session feedback forms proved it with a 100% attendee rating of "Excellent" with respect to the quality of her teaching. Please book Fauzia to speak at your next event. You'll be thrilled with what she has to offer."
—Angela Bole, Chief Executive Officer, Independent Book Publishers Association

"Fauzia presented a useful as well as an entertaining program about how to use social media and an online presence to advance the visibility of newly published work."
—Madelyn English, Program Director, Bernardsville Public Library

"Fauzia's New Digital Tools presentation was a huge success...informative, fun, engaging and very helpful. Her quick overview of the 5 areas and some excellent tools in each, followed by a Q & A, made people feel like they had a one-on-one session with a Pro!"
—Susan J. Mecca, Ph.D, Nonfiction Authors Association (Dallas Chapter)