Why You Should Connect Your Site to Google Analytics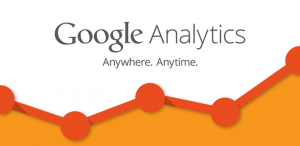 If you can't measure it, you can't manage it. Or, what isn't tracked can't be improved. If you have a website, you have to know if it's working for you. It's important to know what specifically is working well so you can do more of it. It's great if your mom is visiting your website, not so great if
only
your mom is visiting your website. The easiest and most effective way to track your website progress, and discover what's resonating with your visitors is connecting your site to Google Analytics with a little bit of tracking code. Let's take a look at some of the benefits of tracking your site's Google Analytics.
Benefits of Google Analytics
It's free. Works well as a tracking tool for small businesses or authors who have small advertising budgets. You can use the data to run targeted marketing campaigns.
It's easy to track website visits, page views, user demographics and other information.
Identify trends and make changes to your website in real time to best meet the needs of your visitors.
Find out where most of your visitors are located.
Learn the keywords or topics people are searching for on your site. (Hint: This is a big content clue of the information your visitors are most interested in having.)
Find out what pages people click on the most and what pages keep visitor interest for the longest amount of time.
Easily identify your best or most effective marketing efforts.
Discover how many people access your website via their mobile devices and assess if your website is mobile-friendly.
Enhance the user experience by gathering data of what content people like the most and using that data to align your content with visitors' interests.
Make changes in real time if you aren't satisfied with the performance of your website.
See which search engine keyword search terms deliver traffic to your site, and how effective your search engine marketing (SEM) efforts are.
Find out which online marketing campaigns bring the most conversions.
Use referral and keyword data to improve your site's search engine rankings and to increase your awareness of who is linking to you when, where and why.
If you are an author and you have a website, hooray! Having a website is one of the top branding strategies I recommend to authors to create community. The next step is to effectively manage your website and let the data to guide you. Use Google Analytics to provide you with feedback on what you should do more of (what's working!) and what you should stop doing (what's not working!). Google Analytics is a free tool, so it really is a no brainer.
For more information on how best to use Google Analytics to drive traffic to your website, read
my Q & A
with
Social Marketology
author, Ric Dragon. He provides excellent insights on how to gauge if your website is effective. . Understanding what draws people to your website is instrumental to giving your visitors more of what they want and encouraging repeat and longer visits.
© 2014 Fauzia Burke. All Rights Reserved.
AUTHOR BIO
Fauzia Burke
 is the Founder and President of FSB Associates, a digital publicity and marketing firm specializing in creating awareness for books and authors. A nationally-recognized speaker and digital branding expert, Fauzia writes regularly for Huffington Post, MariaShriver.com and MindBodyGreen.  For online publicity, book publishing and social media news, follow Fauzia on Facebook and Twitter. To talk with FSB and ask publicity questions about your book, please join us FSB on Twitter and Facebook.