Keeping Your Newsletter Audience Engaged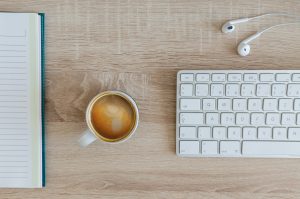 It's very common for authors to come to me looking to build their online platforms. We know this is one of the key things publishers look at when deciding whether or not to purchase a book, particularly if you're a first-time author and you don't have a sales track. But where many people go wrong is by focusing only on social media presence and measuring success by the number of followers on Twitter and Facebook. Don't get me wrong, these numbers are important. But I've said it before and I'll say it again--your newsletter subscribers are far more important than your social media followers.
Think about it. It takes far more effort to subscribe to a newsletter--you're not just clicking on a button, but entering your email address and, likely, opting in via email confirmation. These are people who have chosen to hear from you, and they want to know what you have to say. And when you have a new book publishing, these newsletter subscribers will convert to purchasers at a much higher rate than those who only follow you on social media.
But once you build your newsletter, it's important to keep your subscribers engaged. Here are some ideas to keep your newsletter exciting and readers opening your emails:
Offer subscriber-only exclusives:

Is there an extra chapter that didn't make it into your book? Maybe a first chapter of a sequel? Or extra photographs from a photo insert? Make these available ONLY to newsletter subscribers. They'll feel special and engaged with your brand.

Cover reveals:

Unveiling a new cover design can be one of the most exciting parts of the publishing process. Instead of letting your readers come across the jacket design for your new book via an e-commerce site like Amazon or BN.com, give your newsletter subscribers first look by sharing an exclusive preview.

Pre-order offers:

We all know how important pre-orders are. Why not give your newsletter subscribers an extra discount, only available to them? You'll secure some early orders while also generating buzz for your book.

Make new announcements first:

Even before you announce on social media, share big news with your newsletter subscribers. Even if it's only a day, or a couple hours, before news goes wide, your subscribers will feel like they are getting an exclusive.
And remember to keep your content fresh. There's no reason you need to follow the same format each time. Include photos, news on upcoming or past events, links to relevant articles, etc. Learn from what has worked in the past. What sections are people clicking on? What gets ignored? There's no magic formula here, so experiment with different content ideas. If they don't get much traction, switch it up next time.
Just remember to reach out to your subscribers on a "regular" basis. Think about what this means to you--it could be monthly, quarterly, or even weekly. But remember, communicate too often (or with irrelevant content) and you'll experience fatigue from your readers, not often enough and people will forget they even signed up to hear from you in the first place.