Weekly Round Up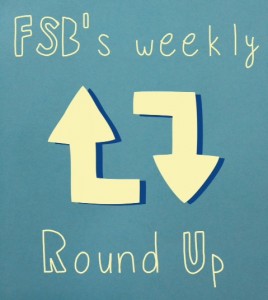 By Courtney Allen
Happy Friday! We've all had a great week and hope you did too! Below are a variety of links to content that the FSB team has been reading this week to gain information about social media, marketing, reading and more!
For Social Media
The 9 Types of Facebook Users
Everyone has his or her own social media style, but there are definite patterns in Facebook user behavior and this great Infographic on Mashable highlights the different types of Facebook users pretty accurately.
How to Use Pinterest to Promote Your Book
Today Pinterest is evolving its features to include business -- and not just personal -- accounts. Pinterest is raising brand awareness and also driving purchasing decisions. Pinterest can be used as a great social media marketing tool and Fauzia Burke shares some ways and ideas on how to use it for promoting yourself and your book.
4 Successful Strategies to Generating More Retweets on Twitter
Generating retweets isn't easy. Any interaction on Twitter is great, but the retweet often has more benefit than any other. This SteamFeed article shares great advice on tried and tested strategies that will spark retweets.
For Marketing
Ignite Brand Loyalty and Win the Love of Customers
Brian Sheehan, author of
Loveworks: How the world's top marketers make emotional connections to win in the marketplace
(powerHouse Books, 2013) explains on Monster.com how your company can cultivate its own Lovemark and start generating lifelong brand loyalty.
7 Classic Pieces of Wisdom That Still Apply to Internet Marketing
Even though business and marketing has evolved with the addition of new apps, social media techniques, and web design platforms, there are still lots of pieces of old wisdom that are as valuable as they ever were – even in the fast-paced world of Internet marketing.
Book Fun!
The summer months are a great time of year to catch up on books to gain tips and advice for advancing your career. The Glass Hammer suggests books that have all been recognized by thought leaders and influential business people as top notch advice books from which anyone can benefit.Summer Reading Flowchart: What Should You Read On Your Break?

Out of summer reading ideas? Consult this flow chart with 101 books for your entertainment. Follow Teach.com's chart of top picks and peruse the different categories until you find something that's a perfect fit!


FSB Team!
Meet the FSB team - Leyane, Fauzia, John, Courtney and Anna.
We always love having our little furry friend in the office. She was working hard! Her main focus was how to get outside to play with the geese.
Like FSB on Facebook Follow FSB on Twitter and Pinterest