Twitter Tools for Tweeting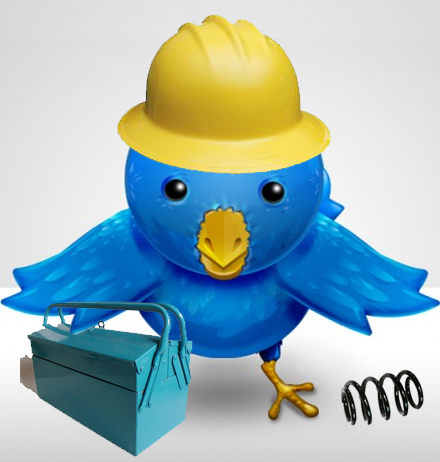 by Ken Ishii
If you made the big step into the microblogging world of Twitter, then you deserve a good pat on the back.  News of Twitter's utility as an information speedway during international crises and the platform's ability to ignite publicity wildfire have made headlines worldwide.  It's quite obvious that you've added an incredibly versatile and powerful instrument to your PR arsenal.
So your account is set. You uploaded your favorite profile picture, crafted a sharp bio, splashed your background with eye-catching graphics, added like-minded users to your following list, and even posted fully-loaded tweets complete with searchable hashtags, user handles, and shortened urls that link to your web site or blog. Well done.
By now you might have realized that Twitter, while fascinating, is a voracious time gobbler. Rummaging through streams of countless updates from your news stable and scrambling to respond to every retweet, reply, mention, greeting, and inquiry, you might notice the day pass before you even get to your direct message inbox. Add to this the chore of finding new people to add to your community and you'll probably begin to wonder if your toe-dip into the social media pool hasn't suddenly pulled you in above your head.
Fortunately for us, a bevy of tools has surfaced over the past couple of years to help cut down your maintenance time so you can get down to the business of perfecting that complex craft of writing catchy 140-character-confined copy.
Hootsuite
I'm putting our favorite one first. By far, if there's one tool that will have the biggest impact on your social media productivity, control, and insight it would be an online brand management system. While there are a few on the market, we prefer Hootsuite because of its ease of use, features, and lack of software to install on your computer.
The free version of Hootsuite offers more than enough for most users out there. Hootsuite has an interface that puts you in full control of your account. The dashboard is made up of customizable columns that can display a variety of information streams such as your home feed, lists, trends, mentions, direct messages, retweets, schedules and more without having to change pages on the screen. There's even an analytics tool to see how people are reacting to your tweets.
This tool is highly recommended. It has a slight learning curve, but there are
instructional videos
and official
Hootsuite help
topics to guide you.
Twitter Search
While Twitter and Hootsuite both have search boxes and allow for some basic filtering, you'll need a tool like Twitter Search to add precision to your searches. Click on the advanced search button to start targeting your search with filtering options that include words, people, places, dates, sentiment, and more.
Twittonary
With only 140 characters to convey thoughts into meaningful tweets, you'll find users exercising some creative messaging.  The use of established acronyms and abbreviations, as a result, could come off as cryptic to the uninitiated. Twitter glossaries and dictionaries make it easy to decipher codes you run into as well as help you apply Twitter speak to your own messages.
Twellow
Finding the right people among the millions of users is no easy task. Thankfully the online world works much like the physical one. If you were looking for a doctor, plumber, or caterer in the real world, asking around on the streets probably won't get you very far. You might, instead, look to your local Yellow Pages. Twello works the same way but for Twitter. Find users by category, area, or name just like you would with a phone book.
TweetStats
TweetStats acts like your Twitter account's personal assistant. This Twitter statistics application will feed you information about your Twitter activity without judgement. Just the facts on the frequency of your messages by time, day, month, and year. Tweetstats can also tell you what your popular keywords are and the amount of time you spend engaging with other users.
Klout
At some point you may be interested in knowing how effective you are on Twitter. While Hootsuite and Tweetstats metrics can help you gain insight into your Twitter activity, a service like Klout will give you a Twitter assessment that will help you decide whether your social networking approach is working or not. Using a proprietary scale, Klout will compute a score based on your activity and networking that you can brag to your friends about or work on to bring up to par. Other assessment services exist, but Klout, for now, is the most widely used.
Friend or Follow
There are many reasons why your followers/following lists are important. Mainly, your concerns should be that your networks can become indicators of who you are to potential new followers and that a Twitter restriction on the number of followers in your allowance may prevent you from adding new people to your network if you let spammers in. Friend Or Follow is a useful tool that allows you to see the relationships between you and those you follow and those that follow you so that you know precisely what kind of users make up your community.
A little poking around online will lead you to a wide variety of 
Twitter tools and services
aimed at enriching your tweeting experience. Since new products are always being added to the marketplace, it's a good idea to ask around before spending too much time on any one application.