Twitter Tip: How to Organize with Lists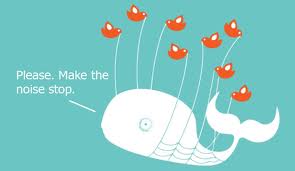 by Ken Ishii
It's no secret that online social networking is an efficient way to spread news fast and far. Great news for authors. And among social networks out there, Twitter has proven itself a powerful vehicle able to drive users to both familiar and new communities with little effort.
If you don't have one yet, you should really 
open a Twitter account
quickly before you lose a golden username to someone too quick to the draw. Already a member? Then you'll most likely enjoy how useful Twitter lists can be.
If you're familiar with the
ins and outs of Twitter
, then you probably maintain a regular stream of tweets, amassed a robust network of like-minded users, and made a habit out of lending a hand by retweeting others. With that, you probably realized how hard it is to keep track of users that relentlessly enter your network.
Like any social gathering, you'll always find a few folks that seem to linger in the spotlight a bit too long. Twitter being no exception, you're bound to be surrounded by virtual soapbox speakers unless you manage your tweet listening skills. So how does one handle those overly-ambitious users that drown your Twitter fellows into oblivion? You could just stop following the post-happy users altogether, but then you'll be burning a bridge you might need to cross when time comes to promote your work. A less antagonistic approach would be to simply avert your attention away from the noisemakers. Creating lists offers a friendly solution that won't cause tears when
users find out who stopped following them on Twitter
. With Twitter lists, those chatterboxes can keep their seats at the party, but you'll get to choose which table to join.
So let's get started. To make your own lists, visit and
log in to your Twitter account
. You say you rather use
Hootsuite
? We do too, but we'll get to that right after this.
After logging in, you'll be taken to your Home screen. Right above the news stream on the left are several tabs including one labeled, "Lists." Click it, and a drop-down menu will appear where the option, "Create a list," can be found. Think about all the categories you'll want to get updates from regularly and then decide how many lists you want to create. Again, it might help to imagine a party with tables of different groups.
I need to throw a bit of caution out there when creating lists. With public lists, the list name, description, and users you add to the list will be visible to everyone on Twitter. You can specify lists as private to keep them hidden from other users, but keep in mind, lists make great sharing resources that others might find helpful.
Next you'll need to add people to your lists. Search for new or familiar Twitter users and find the drop-down menu on his or her profile to add them to a list.
You can add a user to more than one list if you wish or you can create a new list right on the spot if you think of any new categories.
Over time, users might find
social media management tools
such as Hootsuite necessary to organize and enhance their networking experience. If you're one of these people, you'll be relieved to know that you don't have to go to the main Twitter site to put together a list. There are several ways to create a list on Hootsuite. The method I like is to simply click the "Add Stream" button in the upper left-hand corner just below the tabs.
In the window that pops up, click on the Lists tab to reveal the required entry fields. If you have multiple Twitter accounts, select the profile you want your new list assigned to. On the third line, click the "Create a new list" option and then name your list. Select whether you want to make your list public or private, click "Create Stream," and you're done!
If you already have a list created or subscribe to a list you want to add new users to, just click on the user's Twitter profile picture and click on the "Add To List" button in the profile box that appears. Next, select the list you want to add the user to from the drop-down menu and, within seconds, the user's tweets will be included in the stream of messages filtered by the list.
With lists in place, Twitter comes alive with customized channels you can surf to find whatever suits your mood. You can create lists consisting of general news outlets, industry experts, valuable followers, competitors, family members, friends, favorite stores, or find
other creative uses for lists
to enhance your tweeting experience. If you're looking for pre-made lists or recommended Twitter users, you can browse a
Twitter list directory
to save you some legwork or even get yourself on a public list.
Don't feel like you need lists right now? Maybe it's time to go and follow more tweeps? You can start with our
FSB home team on Twitter
!