Twitter Tweet Anatomy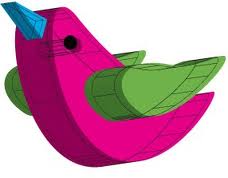 by Ken Ishii
For authors, Twitter is an incredible platform for promoting not only your book(s), but publicizing you - as an author, as an expert, as a person.  Twitter gets compared to Facebook and texting when, really, it's a social networking platform unlike anything out there.
There are millions of people on Facebook and it's the top social networking service for good reason.  Using Facebook is a great way to connect with friends, family, and people that have decided to "like" you.  But if you're looking for new users to introduce your book to, it can take a great deal of time and effort to get outsiders to visit and interact on your page.
Using
Facebook
is arguably becoming one of the most time consuming activities in the US that many simply can't afford.  Some would rather email or text each other.  A bit too direct for most marketing campaigns to be successful.
Twitter combines the economy of texting with the networking power of Facebook to create something too fast and far reaching to ignore.  Getting started is as easy as signing up on the
Twitter
website.  Enhancing your experience and finding marketing success, however, is a whole other game.  We collected several resources that will help you get engaged with the millions of people that are having just as many conversations every second of the day.  Fauzia Burke has an article, Twitter 101: Tips to Get You Started, on
The Huffington Post
that will get you up and running so you don't end up spending time wondering what
retweets
or
hashtags
are.  What the heck is a
Bit.ly
anyway?  You'll find out soon enough.
One of the difficulties I notice people having even after reading a tutorial is getting used to the endless streams of confusing text racing back and forth between users.  To that, I say there's nothing like hands-on experience.  But for now, I've put the brakes on a few tweets for you to examine at your own pace.  Bonus!  Click on the messages with links to go to the articles that are mentioned in the tweets below!
Twitter's 140 character limit may be the very reason for its success.  It forces conversations to get straight to the point.  With this limitation, though, you'll find users getting creative with their tweets using abbreviations and compressing text.  While an entire list is hardly practical, it is good to know some of the basics and we have them listed below to help decode the tweet-speak.
Going forward you'll probably be interested in employing Twitter to help promote your book. 
Twitter Power
by Joel Comm will show you how to use Twitter for marketing purposes which will help build awareness for your book and strengthen your personal brand.  See the video below for more information.
http://www.youtube.com/watch?v=FoImMG29UcQ&feature=player_embedded