The Importance of Authenticity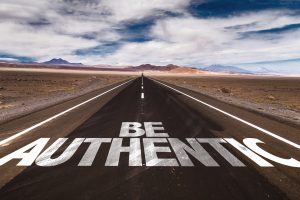 The advent of online marketing has made it easier than ever for authors to connect with readers. Gone are the days when authors had to rely on in-person events for the chance to interact with readers directly. Social media has leveled the playing field, giving all writers the chance to connect directly with readers. No longer does the author with the biggest marketing budget automatically win.
Just remember connecting with your readers is a privilege, so think carefully about what to share. How much information is too much? How do you set your online persona?
The answer: Be uniquely you. Aim for authenticity. Take some time to consider what you want people to think of when they think of you. This
worksheet
from my book,
Online Marketing for Busy Authors
, is a great start to help you identify your unique brand.
This doesn't mean your life has to become an open book. Determine what you are comfortable sharing with the public. This might mean you keep your vacation photos relegated to a personal Facebook page, but you share photos from book events on your author page. Maybe you want to reference your children, but aren't comfortable sharing their names or pictures. Remember, what you put on the internet will live there forever, so make this a conscious decision.
But most importantly take the time to be authentic. Your readers want to get to know the real you. They want to know your favorite foods, your writing habits, and what book is on your nightstand.
Embracing authenticity also means avoiding some of the easy "traps" of social media. If you have someone else managing your page, make sure you are aware of the content being shared. Give regular input into the kinds of posts you want your readers to see. And under no circumstance should you "buy" followers. While a large number of followers may look impressive at first glance, those fake accounts (or bots) won't interact with you in any way, and they certainly won't convert to book buyers. So really, what's the point? Have you ever noticed a Twitter account with hundreds of thousands of followers, but little to no engagement? Ever wonder where those followers came from? If you're curious, the
Twitter Audit
tool will allow you check someone's followers and determine what percentage are fake accounts.
Although establishing your brand takes time and consistent effort, the world of social media can speed up the process of creating connections. And with any luck, those connections will turn into long-term readers and buyers of your books.