Taking Risks in Publishing (and Life)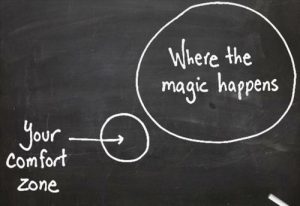 Whenever I meet with a potential new client, I like to ask him what his goals are for his marketing/publicity campaign. More often than not, I get an answer like, "I want to be a #1
New York Times
bestseller" or "I want a 7-figure advance on my next book." While it's completely normal to have high aspirations, I tend to steer authors toward something more achievable, where actual steps can be made toward achieving that goal. Do you want to reach 10x your newsletter subscribers? Or get 100 book reviews on Amazon? Or sell 20% more than your last book?
When it comes to book publishing, and life, the important thing is to set your goals, and then move forward taking the steps to achieve those goals. Too many times we think about our dreams, but then do nothing to achieve them.
Almost 2 years ago, my husband and I made the decision to fulfill our long-held dream of living in southern California. Our children were both off at college, our jobs allowed us the flexibility to work from the west coast, and so we just made the leap. Was it a risk? Absolutely. Am I happy I took the chance? You bet.
When thinking about taking a potential risk, I like to follow these steps:
Set your goal, and make sure it's measurable and achievable. It's all well and good to come up with "stretch goals" (like being a #1 New York Times bestseller), but you also need to think about goals that are both achievable and measurable, like selling 10,000 copies of your new book, or gaining 25% more Twitter followers.
Think about the steps needed to achieve your goal

, but don't get caught up in the planning. In some ways, the internet can be paralyzing with all its information. Yes, you should spend time writing down the actionable steps you want to take to achieve your goal, but don't spend too much time in this stage because you need to...

Move forward with your plan!

This is the most important part--as Nike says, Just do it! Start taking the steps that will help you achieve your goal. Do you want to sell more copies of your book? Then start promoting it via social media (with links to purchase), ask for reviews, book speaking gigs. You must start moving if you want anything to happen.

Evaluate

. If something isn't going how you expected, don't just throw your hands up, fix it. Are you running Facebook ads that aren't performing? Instead of scrapping the ads altogether, change the copy and experiment with different images. It's completely within your control to change your outcome.

Learn something

. What happened? Did it work? Chances are some parts of your plan worked stunningly well and helped you achieve part of your goal. That's great, keep that in your pocket for next time. And those things that didn't work? Even the most colossal failures can teach us something for next time.
I've lived a life of taking risks, and more often than not, they've paid off. But I've also had my share of failures. But through it all, I've learned to just leap, and trust that things will work out. Had my husband and I hesitated on our cross-country move, we'd be heading towards another bleak New Jersey winter instead of the sun-filled California adventure we're currently living. And had it not worked out? Well, at least we would have learned something.