Steve Jobs Makes Me Better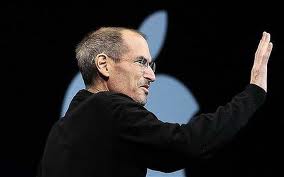 by Fauzia Burke
Steve Jobs stepped down as the CEO of Apple on Aug. 24, 2011, and if you read the news on Twitter first, then you also saw the millions of tweets thanking him and feeling sad at the news of his departure. Think about that for a minute: we, the people, were thanking the CEO of a company for making us better.
Most of us don't even know the CEOs of companies, but we know Steve Jobs. We know him because he was always on our side. His decisions about design, beauty and elegance were not about technology; they were about us.
Apple makes great products, but I was not always a Mac fan. Actually, until 2007, I was a PC user. I just assumed that Macs were for those creative types, the artists and graphic designers and photographers and movie makers. I am a publicist and a small business owner. I figured I could do with a PC.
Our family's love affair started with the iPod, of course. John, my husband and our home and company CIO, had bought several MP3 players and told our tween girls that they were the same as an iPod, just a lot cheaper. Of course, that was not going over well, so we bought them iPods. Those were the first Apple products in our home.
Upon seeing the elegance of the design, both John and I got iPods, as well. Then John bought a Mac Mini for the home to test it out in June 2007. We thought our girls would enjoy the music, photo and movie programs. Not only did they enjoy them, but we loved them, as well.
In fall 2007, John then bought himself a MacBook Pro, and for our daughter's 13th birthday we got her a MacBook (we owe our current Mac devotion to her love of Apple products). After seeing John's laptop, I, of course, had Mac envy and wanted a MacBook Pro for myself.
Now our home was almost totally powered by Mac computers, and we were loving them. The programs and templates allowed me to do my best work. The laptops were effortless. Gone were the days of my laptops overheating (yes I am talking to you, HP) or freezing for no reason (that's you, Microsoft). I could already feel that this laptop was about me. It just worked.
In our Web design department at FSB (our firm), we moved to Macs in the office. Now the Macs had started moving into the office, as well. We were switching our website development to Dreamweaver and did not want to buy the expensive program for PC, so in came the Macs. They were, of course, a big hit.
In the meantime, one of our publicists' computer crashed from a virus (remember the blue screen of death?). By this point, John was frustrated by how much tech support was needed by the PCs and decided to get her a Mac Mini. This required our company to change our software needs, which were PC based, so we developed an awesome database that was Web-based. Now we were platform-agnostic and could work from anywhere. Fabulous!
By 2008 the entire FSB office was converted to Macs. Everyone loved them and felt that they were so much easier to work with. None of us was thinking about how to work with our computer. We were just doing our work, and the Macs were just working. It was all about us.
Then there is the classic story of getting our first iPhones. John really wanted one, but I figured a phone is a phone, and I did not care. But he convinced me that it would be a great anniversary present for each other. I rolled my eyes but went along with it. So on our wedding anniversary, we were standing in line at a Mac store waiting to buy our iPhones. I rolled my eyes and told him he owed me. Then we got the iPhones, and 24 hours later I was converted and was found saying, "You can take my iPhone from my cold, dead fingers."
There was no turning back. We were Mac devotees. Yesterday I started to count how many Apple products we own, and I lost the count at 30. Our home and our office are completely powered by Apple products, and we could not be happier.
As a small business and a tech-savvy family, our Apple products have made our lives better. We do our best work on our Apple hardware and software. The Macs in the office, including the server, have saved us money and hours of frustration in tech support.
Like millions of others whose lives have been made better by your products, we, as a family and a business, thank 
you
, Steve Jobs, for improving our family life, saving us money in our small business and giving us the tools to do our best work. We all wish you the best of health and continued success.