Social Networking Your Brand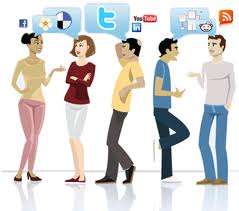 by Ken Ishii
It's not enough to rely on traditional marketing platforms today. There's a shift in both habit and attitude that is making "push" sales a thing of the past. Our time is being stretched around a stack of new tools and technologies leaving us with less room for fast-fading television, newspapers, and magazines. To compensate for lost time, consumers and sellers alike are budgeting their minutes strategically. That means passing on activities that require physical interaction in favor of virtual interaction using devices like computers and mobile phones that are tethered to the modern lifestyle.
Understandably, people choose to "unplug" from time to time, falling back on activities away from the Internet, but these are moments when most can't be bothered with ads. Devices that skip over television commercials and efforts to disguise ads in print are further indications of traditional media's weakening effect on the public.
Brands in every industry across the globe now have robust websites that serve to meet the demands of societies everywhere that are migrating from a physical world to a more portable and palatable virtual space.  The subsequent rise of social media was almost inevitable. Of course people would need places to socialize and express themselves. Crossing the digital divide didn't mean we would eliminate our need for interaction.
So social media is big. A transplanted global populous without border patrols or passports limiting our interactions. To give you an idea how much social media has taken off, let's take a look at a recent
Nielsen study
. According to the definitive media research company, social networks make up the largest share of time Americans spend on the Internet. This beats time spent on e-mail which has, for long, held the top spot on the list. Considering one is a leisure and the other a work related activity makes this finding flat-out remarkable.
Social media gives sellers, in this case authors, an unprecedented opportunity to connect sympathetically with fans and newcomers alike. Networks like Facebook, Twitter, and Tumblr offer previously unavailable access to reader likes and dislikes and, most importantly, give rise to formations of meaningful relationships with like-minded communities.
If you're new to social media, you might find the weight of information daunting at first. On or offline, balancing relationships with people is never an easy task. Like forging a friendship in the physical world, getting people to open up to you takes time and nurturing.  If you're introduced to an established circle of acquaintances however, your road to success becomes a much smoother ride. Like in any relationship, the bottom line is trust. Your reputation is gold. Without it you'll be in a virtual room talking to yourself and the four sides of your screen. FSB Associates President Fauzia Burke wrote an article for
The Huffington Post
that simplifies the difficulty of protecting your online identity into a list of five steps that will build and maintain your digital reputation.
At FSB a large audience of "real" communicators spread across specific areas of interest are here to welcome you. Together we'll create your voice and build and maintain your online reputation through strong relationships grounded by meaningful interactions with the most influential social media communities around. There are an innumerable amount of impostors out there attempting to cash-in on this explosive marketing phenomenon.  Savvy consumers have little tolerance for spammers though. Don't let a seemingly innocent pitch turn into an over-ambitious gaffe leaving a mark on your name. We have the experience, resources, and skills necessary to help manage your online reputation and build your personal brand.  There are new trends and challenges on the horizon for the new year and we look forward to conquering them with you in 2011.