Getting Started: 10 Digital Marketing Tips for Busy Authors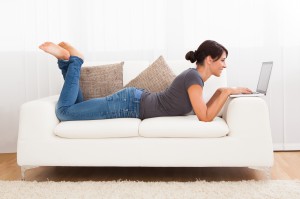 You are an author. Your book is finished. Or you are still working away page by page. You wish your book would sell itself due to its sheer brilliance, but realistically, you know it's going to take some leg work to market your book. You want to share your story and get your message out into the world, but with today's endless list of social media sites and tools, you feel a little overwhelmed. You are faced with a myriad of choices and the one-word dilemma all of us share: time. How do you market your book and still have time to write?
If this sounds like you, you are not alone. It's a common problem most authors face. Let me help you with 10 digital marketing tips.
1) Start now.
It's never too early to start. Even if your book is in the idea phase, it's not too early to start building your brand and finding your audience, because it takes time. Ask yourself: Who is your book for? Answer that question on paper and a picture of your audience will begin to emerge. Once you can describe your audience, you will have a better understanding of where you can find them online.
2) Invest often.
You will get as much out of your personal brand as you put into it. Think of who you want to help. Think of the problems you want to help solve for your audience and share your knowledge. Create connections through online conversation, always offering value with solutions, ideas, resources or expertise.
3) Decide what works for your audience.
Busy authors have to figure out the best options for publishing their book while simultaneously working on branding and marketing. Don't follow the next shiny object online; take time to consider what social media platforms make sense for your brand. Just because a social media platform exists or there's an app for it, doesn't mean you have to use it. Decide what sites and tools you will use to find and communicate with your audience. To avoid overwhelm, start with a website and one or two social media platforms. You don't have to do everything all at once.
4)  Identify your audience.
Answer these three questions:
Why did you write your book?
Who is your book for?
What interests do you share with your audience?
Answer these three questions and you will be writing a description of your audience. You have to first know who your audience is before you can find them on social media.
4) Protect your good name. Monitor your digital reputation.
Your name and reputation are at stake when you build your brand. You can get help with your social media efforts, but make sure you invest your own time to safeguard your brand. If you outsource some of your social media efforts, make sure all the messaging is consistent with who you are and your personal brand.
6)  What are you goals for you book?
Identifying your goals for writing your book determines your priorities. Nonfiction writers are often driven to write a book to shed light on an untold story, help others with their expertise, build a business or acquire speaking engagements. What's your top goal? Keep your top goal (or two) in mind to decide how to spend your time online.
7)  Determine your value proposition.
Who does your book help? Read your answer to this question often as it will give you the motivation to do the continuous work it takes to promote your book and build your brand.
8) Take time to read.
Readers make the best writers. Need a good
book recommendation
? I have 14!
9)  Know your small efforts count.
You don't have to go viral to gain an audience. Sustained small efforts to keep people talking can be just as effective as a campaign that goes viral. Your ongoing conversation with your readers can result in speaking engagements, paid blog posts, interview opportunities, more fans on your Facebook page, more traffic on your site, increased sales, and a recognition and expansion of  your brand—Brand YOU. Think of what you can do daily to keep the conversation going.
10) Brand You.
"All of us need to understand the importance of branding. We are CEOs of our own companies: Me Inc." -
Tom Peters. When you engage with your audience online ask yourself: Does it:
Entertain?
Enlighten?
Inform?
Educate? If it doesn't, don't share it.
If your true passion is writing, I know marketing can appear daunting. Take a day-by-day approach and realize every effort counts. As I tell many of my clients, sometimes waiting to see the rewards from your efforts is like waiting for a baby's first smile. You just have to be patient, because your day will come.
© 2014 Fauzia Burke. All Rights Reserved.
Author Bio Fauzia Burke is the Founder and President of FSB Associates, a digital publicity and marketing firm specializing in creating awareness for books and authors. For online publicity, book publishing and social media news, follow Fauzia on Twitter: @FauziaBurke. To talk with FSB and ask your book publicity questions, please join us on Facebook.