FSB's 12 Days of Book Giveaways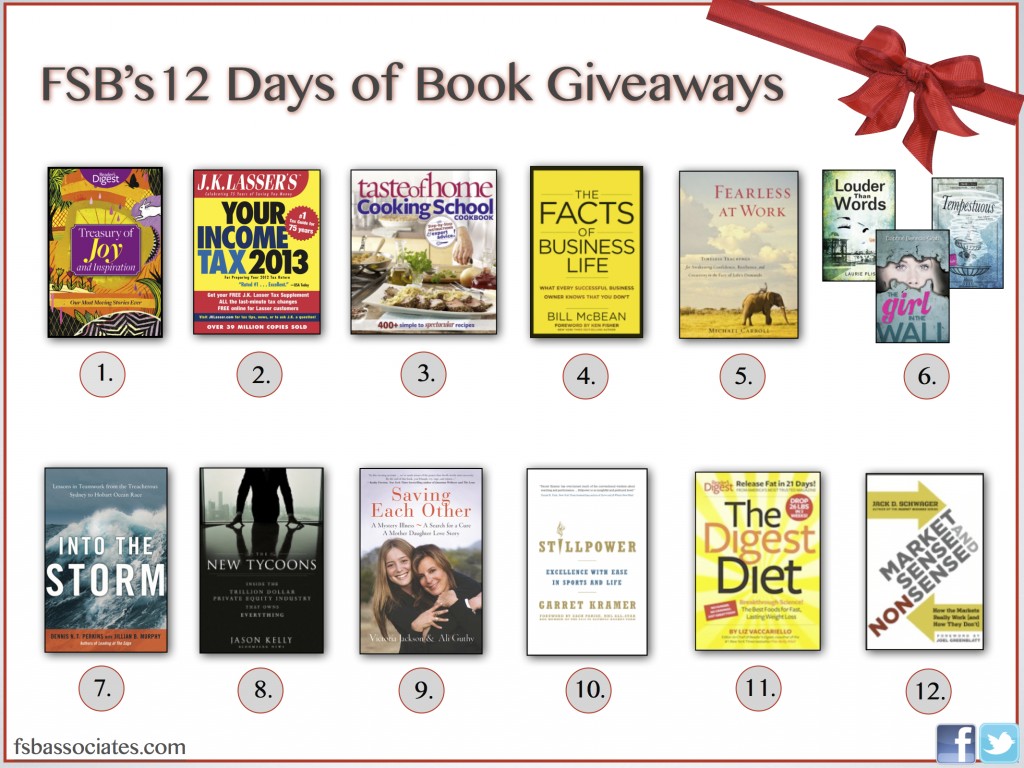 All of us at FSB would like to wish everyone Happy Holidays and a year full of love, health and prosperity. As a token of our appreciation, we've organized 12 Days of Book Giveaways full of great books to give and receive.
To enter (US Entries only), please visit our
Facebook
page and like or comment on any post labeled
FSB's 12 Days of Book Giveaways.
You can also follow us on
Twitter
and RT the giveaway message to be entered into the giveaway.
Giveaway will run from 12/13 - 12/24. Each person can enter once a day on Facebook and Twitter for the specific book of that day.  Winners will be selected randomly.
Good luck and Happy Holidays!
Day 1:
Treasury of Joy and Inspiration: Our Most Moving Stories Ever
by Reader's Digest Editors
Day 2:
J.K. Lasser's Your Income Tax 2013: For Preparing Your 2012 Tax Return
by J.K. Lasser Institute
Day 3:
Taste of Home: Cooking School Cookbook: 400 + Simple to Spectacular Recipes
by Catherine Cassidy and Taste of Home Editors
Day 4:
Facts of Business Life: What Every Successful Business Owner Knows that You Don't
by Bill McBean
Day 5:
Fearless at Work: Timeless Teachings for Awakening Confidence, Resilience, and Creativity in the Face of Life's Demands
by Michael Carroll
Day 6:
Merit Press Books:
Louder Than Words
by Laurie Plissner,
Tempestuous
by Kim Askew and Amy Helmes, and
The Girl in the Wall
by Daphne Benedis-Grab
Day 7:
Into the Storm: Lessons in Teamwork from the Treacherous Sydney-to-Hobart Ocean Race
by Dennis N.T. Perkins with Jillian B. Murphy
Day 8:
The New Tycoons: Inside the Trillion Dollar Private Equity Industry That Owns
by Jason Kelly
Day 9:
Saving Each Other: A Mother-Daughter Love Story
by Victoria Jackson and Ali Guthy
Day 10:
Stillpower:Excellence with Ease in Sports and Life
by Garret Kramer
Day 11:
The Digest Diet
by Liz Vaccariello
Day 12:
Market Sense and Nonsense: How the Markets Really Work (and How They Don't)
by Jack Schwager