Diversity in Book Publishing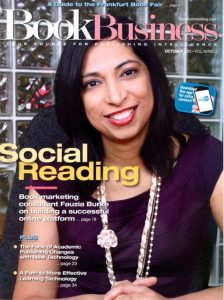 The Guardian
published an article about a year ago regarding the lack of diversity amongst authors and referenced a program launched by Penguin Random House UK to "discover and mentor authors from the UK's under-represented communities, whether this means they are writers from poorer backgrounds, from LGBTQ or BAME (black, Asian, minority ethnic) communities, or writers with a disability." Tom Weldon, chief executive of Penguin Random House UK, was quoted as saying, "We feel very strongly about diversity in publishing. For me it is a real problem when we don't reflect the society we live in. It's not good for books, or culture, or commercially. We are going to become irrelevant. We know we have a real issue, and we have been slow. We have to address it."
As a woman of South Asian heritage, I remember I was heartened to read this article.
The Guardian
and Penguin Random House UK are right that in order to stay with the times, publishing needs to reflect the diverse voices around us. But if publishing is going to change the profile of their authors, they also need to reflect on the profile of their staff.
I have been in book publishing my whole career, first working at Wiley and Henry Holt before launching my own online marketing and publicity firm,
FSB Associates
. During this time, there have been many, many times when I was the only non-Caucasian person in the room. Have I personally experienced any prejudicial treatment? Absolutely not. Do I think this homogenous group influences the lack of diversity in published authors? Definitely.
Now as a published author and speaker, I've had the opportunity to meet an even wider publishing audience, interacting regularly with traditional and self-published authors through my work as conference faculty. And even these audiences rarely reflect the diversity of the American public. At one conference, a woman of Philippine heritage introduced herself to me by saying, "I wanted to talk to the only other brown person here." We both laughed at the comment but understood the accuracy in the statement.
I know most conferences can't control their audiences, and I certainly wouldn't suggest attendees be turned away based on their backgrounds. But conference planners can attempt to represent a more diverse faculty. One conference that historically has done an exceptional job in this area is GrubStreet's
The Muse & The Marketplace
conference in Boston--in topics, faculty, and audience, they represented a variety of views and experiences. Having recently returned from this conference, I can't help but think that we all walked away feeling more satisfied, both personally and professionally, than at the typical writers event.
I entered college as an accounting major, an area of study that was seen as acceptable by my South Asian family (the only other approved choices were medicine or engineering). Once I arrived on campus, I made the brave decision to switch my major to English. It was a big risk, and upon hearing my decision, my family actually called an intervention. They wanted to talk me out of my doomed choice. "What do you do as an English major?" an aunt asked. I replied, as only a 19-year-old could, "You read and write." "Isn't that a hobby?" she asked. The concern was that I would never get a job or make a living.
As I think about my career today, I wonder if one cause for the lack of diversity in book publishing could be that in many cultures having a practical career is more important than pursuing a love for the written word. Or it could be that with starting salaries still hovering near $30,000 per year and an industry largely based in expensive New York City, only those graduates with financially supportive parents (or an undying appetite for ramen noodles) can afford to take an entry-level publishing job. I am not sure why there is a lack of diversity in book publishing, I just know firsthand that there is, and it is a shame. Books are the carriers of civilization and they should represent the whole world view, but until publishing companies begin focusing on hiring a more diverse staff, this will continue to be a challenge.
Would I want my daughters to work in an industry that is so homogenous? Right now, honestly, I would not. I would want for them to be surrounded by different types of people with different perspectives and histories. But with any luck, this will change--hopefully sooner rather than later.