BookExpo America 2016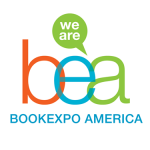 Book Expo America
is my favorite show of the year. I know people groan about going but I love it. It makes me feel part of an industry that I love. I get to see familiar faces and make new friends. Plus it's a giant room full of book people, who happen to be my favorite kind of people.
This year is even more special because for the first time I will be doing a book signing. My book,
Online Marketing for Busy Authors
was published on April 19th and my fabulous publisher Berrett-Koehler has arranged for a book signing at the Ingram booth on Friday. On the same day, I will be on a panel in the morning and will do a solo presentation in the afternoon.  It should be a fun and hectic day.
If you are going to BEA, please stop by and say hello. Here's where I will be on Friday 5/13:
10:30 AM - 11:20 AM Panel:
Consumers, Customized Selling Options and You
Room: W178a
12noon - 1pm
Book Signing: Online Marketing for Busy Authors
Ingram booth 941
2:00 - 2:50 Session:
New Digital Tools: Make Your Social Media Marketing Easier and More Effective
Room: W180