The Biggest Marketing Launch of My Career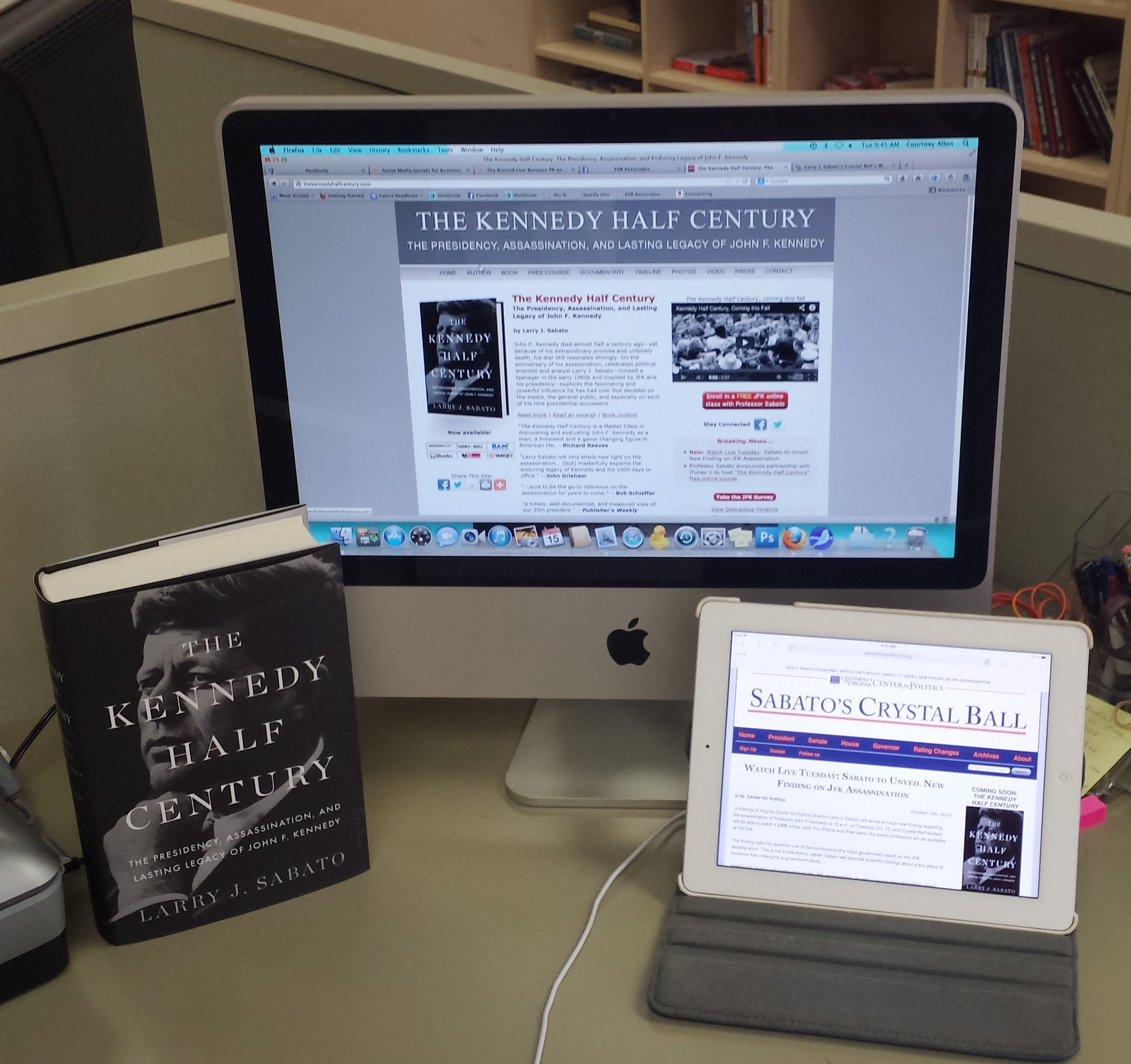 You may think the headline is an overstatement. I promise you, it is not. Today I am proud to celebrate the publication date of 
The Kennedy Half-Century: The Presidency, Assassination, and Lasting Legacy of John F. Kennedy
By Larry J. Sabato (Published by Bloomsbury, October 15, 2013).
This is a must read book for American history buffs everywhere. Not only does the book deliver unique, never before known, information about the assassination of our youngest president, it also gives a unique perspective of the 50 years since his death. It's a really great read, but I am a marketer and not a reviewer. There are people much more qualified reviewing the book. Let me tell you about the marketing roll out of this book. It is so exciting to work on a marketing plan that includes such a coordinated cross-platform marketing plan.
Book:
Today on the publication date, there is a press conference. Larry J. Sabato's new material will disprove one of the major government conclusions about the day that John F. Kennedy was assassinated. This is not another theory. Sabato has a major new scientific analysis that is fact. You can watch the press conference
streaming live
or
buy the book
to find out.
Website:
There is a website for the book with substantial additional content (interview transcripts, videos, etc.) and an detailed interactive timeline:
http://thekennedyhalfcentury.com/kennedy-timeline.php
Online Course:
Coursera is hosting an online free course (MOOC) with Prof Sabato starting 10/21 for 4 weeks -- thousands of people have already signed up for it. Check out the video:
https://www.coursera.org/course/kennedy
(John and I are taking it together). A similar course is being offered on iTunes U.
PBS Documentary:
There is a PBS documentary coming this fall by the same name which airs 10/24 in VA and Dallas; nationwide in November. Here's the video promo (looks awesome):
http://www.youtube.com/watch?v=S8ZY9837v3Q
App:
There is an app in the works to be released in October. I have not seen it yet, but have heard about the components and I'm excited.
Survey:
There is an
engaging survey
-- complete with video -- that mirrors the format and key questions that were developed by Peter Hart and Geoff Garin for the poll found in the book.
Publicity:
There is a publicity roll out that includes TV, radio, web and print and started on 10/14.
Everyone at FSB is involved in this project, and we all want to thank: The author Professor Larry Sabato, and his hard working team at the Center for Politics Kyle Kondik, Ken Stroupe and Andrew Bell.
Gene Taft
is a pro at PR and it is always a joy to collaborate with him. The team at
Bloomsbury
has done an extraordinary job. Our thanks to George Gibson, Marie Coolman and Laura Gianino.
© 2013 Fauzia Burke. All Rights Reserved.
Author Bio
Fauzia Burke
is the Founder and President of
FSB Associates
, a digital publicity and marketing firm specializing in creating awareness for books and authors. For online publicity, book publishing and social media news, follow Fauzia on Twitter:
@FauziaBurke
. To talk with FSB and ask your book publicity questions, please join us on
Facebook
.