Best Marketing Options for Authors
By Fauzia Burke
As authors, you know there are a lot of marketing options for promoting your book these days. There's publicity, advertising and of course social media, but before you invest your money and time, it is important to know the benefits and challenges of the three types of marketing options (commonly known as Owned, Paid and Earned media by us marketing geeks).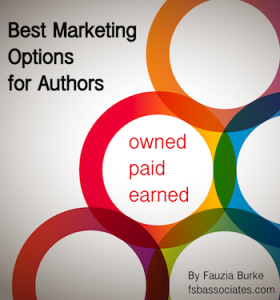 Owned is media you as an author control. It includes your website/s, social networks, blogs, videos, etc.
Paid is media that is bought. It includes ads: print, broadcast and online (banner and search).
Earned is media that is gained through good publicity.
If your goal is CREDIBILITY, publicity wins as the best option. Reviews and interviews will do more for your reputation than any other form of media.
Owned: Your content usually has less credibility. We have a joke in our office about such content. We call it the "Aren't we great? Don't you agree" content. Although content marketing is growing in importance and has many benefits, credibility is perhaps not the biggest advantage here.
Paid: Advertising has similar issues with credibility. Although a well produced ad, placed in a well-suited media outlet will increase brand awareness, it is still not the same as credibility.
Earned: Publicity is the most credible form of media. As marketer Seth Godin says, "publicity is the act of getting ink." Publicity is getting media sources to talk about you, your book and/or business. Publicity is often viewed as more credible because when readers see editorial coverage they know it was not bought (although some Amazon reviews can be bought now. Here's a blog I wrote about that: Fake Reviews are Worse than Bad Ones). 

Book reviews online and off are more credible than ads and lead to more buying decisions. Most people cite recommendations as the number one reason they buy a book.
However, if you are looking to CONTROL the message, your best bet is paid advertising. It can, however, get expensive.
Owned: Your content gives you absolute control over messaging and timing but not over reach. You can't control how many people will see your blog or video, but you can post it at the time of your choosing. It's important to have a content strategy and know all the elements of your digital plan, because if you don't invest in your career and brand, no one else will either.
Paid: Advertising is exposure you pay for. Whether it is coverage on TV, radio, newspaper, magazine or online, you control the messaging, reach and timing. You may even pay for a premium location, such as the inside front or back cover of a magazine. You do have tighter controls with advertising because you know precisely what you are paying for and when your ads will run.
Earned: Publicity is coverage you hope to receive from media outlets. You can improve your chances by understanding the timing and having a good media angle, but you can't "make" something happen (publicists do a lot of praying). With publicity, the process is more fluid. A publicist with well-established media relationships can most likely guarantee you some coverage. You can not determine where it will run, when it will run, how long your coverage will be or exactly what that coverage will say.
You can control the TIMING of both owned and paid media. Publicity (earned) is tricky to line up perfectly, but good publicists know how to manage the timing of reviews and features.
Owned: Your content gives you the most control over timing. Depending on your marketing plan, you may release an effective piece of content timed with the release of  your new book.
Paid: Advertising gives you tremendous control over timing. You can take advantage of breaking news and can scale advertising quickly (as long as you can afford it). You can plan the launch of your book to gain exposure on a particular day and for multiple days.
Earned: Publicity is most challenging here as there is little control over timing. While you can pay for ads to run as long as you want, editorial coverage doesn't run twice. You can, however, get editorial coverage from multiple media outlets and sources around pub date but it is not guaranteed.
The final decision often comes down to COST. Of course the most cost effective option is to create excellent "media" of your own. It is not free, however, as it takes a great deal of your time.
Owned: Sure uploading content to your blog, YouTube, Slideshare or social networks like Facebook and Twitter may all be free, creating that content is anything but free. Developing content on a daily basis takes time, creativity, energy and most of all a good plan.
Paid: Advertising is of course the most expensive option. The opportunity to control the message, timing and outlet comes with a hefty price tag, but if you are trying to reach a specific audience on a specific day with a specific message, no other form of media will give you that control.
Earned: Publicity is also referred to as free and it is absolutely not free. Understanding the needs of the media and having contacts with them requires very specific skill set and today the work is more labor intensive and time consuming than ever. The better your publicity team, the more their time and expertise will cost. Here's another blog to read: 6 Steps for Finding the Best PR Firm for You & Your Book
The best marketing plans typically include a mixture of all three types of media. As long as you understand the difference between them, you can find the right mix for you and your book.
© 2013 Fauzia Burke. All Rights Reserved.
Author Bio
Fauzia Burke
is the Founder and President of
FSB Associates
, a digital publicity and marketing firm specializing in creating awareness for books and authors. For online publicity, book publishing and social media news, follow Fauzia on Twitter:
@FauziaBurke
. To talk with FSB and ask your book publicity questions, please join us on
Facebook
.