6 Tips for Designing Author Websites in 2012
By Fauzia Burke
In 1996, we launched our first ever website. It was for the
NY Times
bestselling author
Sue Grafton
. Not only was it an honor to design our first site for such an important author, but at the time it was such a big deal that the
New York Times
even wrote about it.
Today websites are common place and every author has a site. However, looking towards 2013 when forecasts predict that there will be 1.7 billion mobile internet users, authors need to make sure their sites are attracting the mobile and social readers.
Here are 6 tips for designing author websites in 2012
All in the Name - Your website should be under your name. Even if you publish multiple books with multiple publishers, all of which have their own websites, you need a site in your name. You can link to all the other sites or better yet bring all the information under one umbrella site and redirect the other URLs to the new site. This is essential for a strong brand strategy.
What the Heck is SEO - I know SEO (search engine optimization) is important but so is sounding like yourself. We live in a time where people expect authentic communication not marketing copy. I have seen sites that were so optimized for search engines, that they hardly read well. As an author, you need to make sure the text on your site reads well, represents your work, and sounds like you.
To Blog or Not to Blog - I know most authors hate to be told that they need to blog. I even hate it. Who ever has the time? So my advice, don't blog if you hate it. There I said it. You're free, but... Yep there is a but. New blogs will bring traffic to your site from searches. If you don't need or want unqualified search traffic, you can skip blogging. However, if you think people searching for vampires would be interested in your book, then you will have to write a few blogs about vampires to attract that traffic. Regardless of whether you blog or not, you should consider a site in Wordpress as it makes it easy to update the site yourself.
Mobile Friendly - More and more people are accessing sites on mobile devices so there are a few things to remember. If your site has Flash make sure you test it on different tablets and smart phones to make sure it is working well (Flash does not work on iPhones & iPads). It's important to make navigation easy as people may be using fingers rather than their mouse to move around. Large graphics and dark colors are not ideal for mobile reading. On a positive note, most WordPress sites will display perfectly fine on mobile devices, making a mobile version unnecessary.
Social Links - It's important to have links to your social networks (which should also be in your name) and ways to share your site on social networks. Adding the Facebook and Twitter widgets to your home page might be a good idea as well because they display your recent posts. It's an easy way to keep your site updated.
Photos and Graphics - With sites like Pinterest gaining traction, try to add photos and graphics to your site. You can buy stock photos or better yet take them yourself.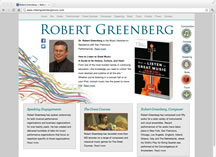 Websites are a crucial link between you and your readers. It is the one place, the hub, of all your activities. Feel free to add extra content, reviews, maps, drawings, family tree, anything to connect with your readers in a personal way. Just remember you are dealing with a social and mobile reader, so plan accordingly.
If you are looking for ideas, check out our
portfolio
.
© 2012 Fauzia Burke. All Rights Reserved.
Fauzia Burke is the Founder and President of FSB Associates, a publicity and website development firm specializing in creating awareness for books and authors on the web. For web publicity and social media news, follow Fauzia on Twitter: @FauziaBurke.