5 Ways to Manage Stress this Holiday Season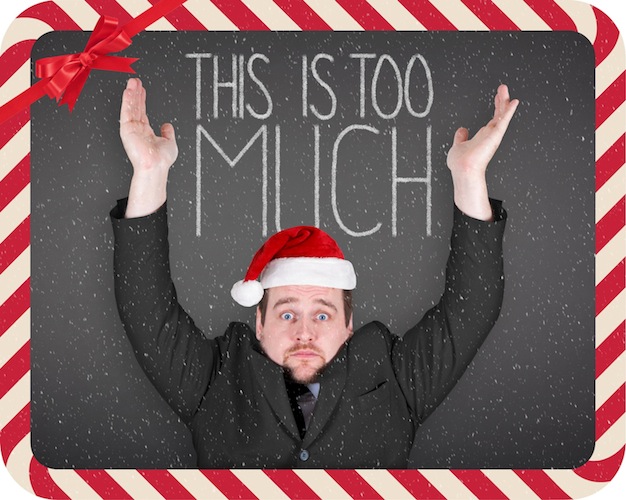 Holidays can be a stressful time. Every time I am in a parking lot of a shopping mall and see people fighting over the last parking spot, I think we need to all remember this is supposed to be a joyous time. I have discovered 5 ways that keep myself less stressed and I hope they help you too:
1. Gratitude.
November is the month for showing gratitude. The holiday season reminds people to take stock. You are more likely to read or write gratitude posts or tweets. Maybe your family members share what they are grateful for around the Thanksgiving dinner table. I love seeing people cultivate gratitude because it leads to so many wonderful, positive things. I am passionate about practicing gratitude because it is essential for alleviating stress and increasing happiness. Gratitude keeps us focused on the positive in the present moment, helps us pay attention, and is the key to joy. Gratitude truly can make our lives better. Reduce your stress this holiday season (and year round) by
cultivating gratitude
. Your state of gratitude really can live beyond November. Gratitude is really a gift you can give to yourself to reduce stress and enhance your life -- both
professionally
and personally. Gratitude is essential for keeping a positive attitude, seeing opportunities everywhere, and absorbing some of the childhood magic of this holiday season.
2. Meditate.
As a business owner,
mom
of two daughters, and a wife, living in balance is a challenge, as I know it is for so many people juggling multiple responsibilities. One thing that helps me is my love for mediation. I meditate every morning. I also teach meditation. It helps me feel grounded, connected and settled. Sometimes I meditate for just a few minutes and other times I take my time. The good news is that I find the same benefits each time. Mediation doesn't have to be difficult to practice. Meditation can simply be the practice of quieting your mind, focusing on breathing deeply and taking some you-time before the chaos of your day ensues. Even if you only have five or ten minutes for meditation, I recommend it. You may want to connect meditation to an alone-time activity that centers you like walking, cooking, painting or writing. Feeling centered may help you move from a frazzled, stressed state to one of calm and relaxed.
3. Check for balance.
The kind of balance I am mentioning here is physical. If we are out of alignment physically it can exacerbate our stress levels. Does your body live in balance between stillness and movement? Do you give yourself breaks to move during the day instead of remaining sedentary in front of your computer? Do you carve out time to exercise? Are you aiming to eat a variety of colors so your diet isn't out of balance? Do you try and strike a balance between sounds and silence? Some people have a tough time with silence, but it's so good for our minds and bodies to have down time and a blank, quiet canvas to think. How about sleep? Do you aim for a balance between waking hours and sleeping hours? When your body is in physical balance, your mind will be better equipped to handle stress.
4. Be in nature.
It is wonderful to spend holiday time in the company of family and friends, but it is equally important to leave room for yourself and your own thoughts. Of course, this time of year, you may have to bundle up, but the fresh air and the outdoors can do wonders for your state of mind and your creativity. As Friedrich Nietzsche once said, "All truly great thoughts are conceived while walking." I am convinced he meant walking
outdoors
! Consider spending some solitude time in nature to recharge and replenish you.
5. Become mindful.
Mindfulness may sound like something that only yoga lovers practice, but really it's about living in the present moment. I try and remind myself to be mindful and consciously pay attention to all the tiny (and big!) moments of my life. It's easy to worry about the future, brood about the past, and forget to live in the present. Yet, the present is where we need to be in order to live in a state of gratitude, pausing to notice all the blessings and wonderful things in our lives can help us feel immeasurable happiness as a result.
I wish you and yours a lovely stress-free holiday season. With a little mindfulness, it can be.
© 2013 Fauzia Burke. All Rights Reserved.
Author Bio
Fauzia Burke
is the Founder and President of
FSB Associates
, a digital publicity and marketing firm specializing in creating awareness for books and authors. For online publicity, book publishing and social media news, follow Fauzia on Twitter:
@FauziaBurke
. To talk with FSB and ask your book publicity questions, please join us on
Facebook
.