4 Ways to Maximize Your Book's Content on Social Media
If you are a published author, you've already done the hard part: You wrote your book and got it published. But don't stop there. If you want to become known as an expert in your field, you need to build your personal brand. There are all sorts of ways you can utilize the content in your book to market yourself in the world of social media.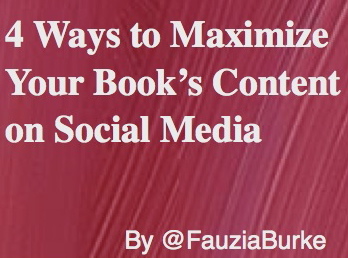 As an author of non-fiction, here are four ways you can maximize your book's content:
Tweet it. If you peruse your book, you will easily see quick sentences that pop out at you as quotable and are perfect for tweets. Look for those compelling quotes that showcase your expertise and are less than 140 characters. Find short quotes that people are likely to retweet. Create a hashtag using your book title each time you tweet to promote your book and create a dialog stream. You also can ask questions related to your book's content to encourage conversation with your followers.
Write a Facebook Post. You can create Facebook posts from quotes or excerpts from your book that are a little bit longer than tweets. Snippets from your book that are helpful to others or inspire dialogue among your Facebook followers make for ideal posts. You can also use the content of your book to write all sorts of tips. Tips are a great way to brand you as an expert because they are short, highly readable and easily shared. When your Facebook followers share your tips, they are helping promote you and your book.
Create lists. To inspire more interest in your book or in you, create short lists that highlight your content. For example, if you wrote a cookbook, you could write a short list entitled, "Three Recipes You Can Try This Week" and use those three recipes to promote your entire cookbook. If your book is about fighting depression, write a short article on "Five Ways to Tackle Your Depression." Articles that are written as quick, numbered lists appeal to people who are short on time but interested in your content. You can include a link to purchase your book and links to your social media sites within each article. Reach out to people who are likely to share your lists and soon others will be helping you to build your brand. You also can sign up for HARO, or Help A Reporter Out, and look for opportunities to share your tip lists with media outlets that are looking precisely for the type of content you write about. It's a free opportunity to get press for your book.
Compile a Blog. Each of the chapter headings in your book can be turned into blogs. Tease the content in your book by writing a shorter version of a chapter in blog form. It's a simple way to create a quick blog and tout your book with a sampling tease of your content. Any stories you tell in your book or personal anecdotes you share also make for compelling blogs. Make sure to always include a link to purchase your book in every blog you write. It's best to keep that in your bio.
Once your book is published, you have a library of material ready for marketing. Market your book and your expertise in the social media world with the valuable content you have already created. Foster your brand and become known as an expert in your particular niche by maximizing the content of your book. If you are reading this blog before you have published your book, start using these tips today. By the time you get published, you'll have a following and a platform. Good luck, and let me know if you have any questions.
© 2012 Fauzia Burke. All Rights Reserved.
For digital publicity and social media news, follow Fauzia on Twitter: @FauziaBurke.