2010 Social Media Stats and Insight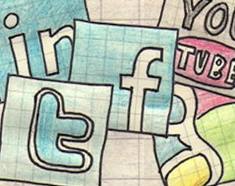 Happy New Year to everyone out there. Hope you had an enjoyable, safe and sound holiday with all your loved ones.
Now that "2K10" is set tidily in our past, a collection of social media reports and statistics detailing top trends from last year have surfaced to help anyone lost at digital sea get back on route to where the online action is. Now that there are over 300 social media services vying for your time, it's wise to know where the pack is heading. Hopefully you'll find the information below helpful when planning your social branding or marketing strategies from here and into the rest of the year.
Facebook
As reported by
AddThis
, a social sharing service, Facebook continues to lead the race with 44 percent of the total social networking service volume in 2010. That's a growth of 33 percent from 2009.
Twitter
After examining over a billion tweets, social media monitoring company
Sysomos
revealed some interesting information about the service nearly everyone has heard of but has taken time to embrace.
The number of Twitter users with over 100 friends has tripled since 2009 which could say the platform is good at forming tight communities. Still, 2010 could be seen as the year of experimenting as 80 percent of all users have made fewer than 500 tweets and that 90 percent of all Twitter activity came from less than a quarter of all users. The company also states that more and more people are disclosing location, bio, and web information to Twitter profiles. Looks like these users have found a service they find valuable and worthwhile.
MySpace
With Facebook now a household term, it's hard to believe that MySpace was once the most popular social networking site.
ComScore
, a web measurement firm, reports MySpace worldwide total unique visitors to be less than 13 percent of Facebook's visitors. At the same time, AddThis shows a backward growth for MySpace of 20 percent. For marketers, it seems pretty clear where time investments are going to be cut.
Services Growth
As important as it is to recognize which services are hot and cold now, it's crucial to track how these services are growing. AddThis has put together a chart that shows the rate at which the most well-known services are moving. Note that while Facebook is leading the pack, other services still have their eyes on the prize.
Whether you're posting updates on Facebook, experimenting on Twitter, or transitioning from other services, being active with social media is essential to any branding or marketing campaign. We were glad to see authors embracing social media with roughly 50-70 percent of our clients on Twitter in the summer.  By the end of the year, 100 percent of the clients we represented in December had Twitter profiles they used to market their expertise and books. For 2011, the question is no longer whether you
should
participate, but rather
how
you're going to connect with your online audience.