11 Social Media Tools for Publicity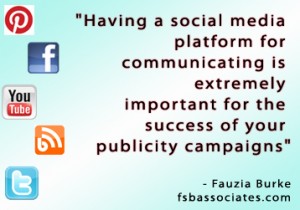 by Fauzia Burke
The explosion of social media in the last few years has brought with it a whole slew of social media applications and tools designed to help publicists deliver and monitor better results. As I have
written
before, I think social media has been a huge help for publicity. However, choosing the tools is important in helping you save time and be effective. I've compiled a list of 12 tools that lighten the social media workload at
FSB
, and I hope you find them helpful as well.
Blog Searches:
Blogpulse
: You can search for a URL, name or topic. I think it gives good results for a given topic, even though I'm not always crazy about the results. However, every now and then I find things here that are missed by Google or
Google alerts
.
Google Blog Search
: This is the most thorough blog searching tool around. You can find blogs for any topic.
Technorati
: This is a great site of blogs by topic and ranking. Very helpful.
Digital Presence Assessment and Management:
Addictomatic
: This site is very helpful in gauging a digital footprint as it searches the web for latest news, blog posts, videos and images. A cool element is that you can customize the dashboard by simply dragging the boxes around.
Hootsuite
: We use Hootsuite in the office and even pay for the pro version. I think it is an excellent program that we find more reliable than Tweetdeck. You can manage several accounts and schedule posts for Twitter and Facebook.
Klout
: One of the most popular Twitter popularity tools, Klout measures influence rather than just followers.
Social Mention
: This site allows you to search an author, company or topic across the Web. You can get results from 100 social media sites in one place. My favorite part is that it gives you sentiment (positive, neutral or negative) of the mentions all over the Web, along with top keywords and top hashtags. It's handy.
TweetReach
: This is one of my favorite sites. It allows you to search a topic, author, handle or name and see how many people were reached by those Tweets. You can also see who sent the Tweets and how many followers they have. Very helpful for publicists looking for influencers.
TwitterCounter
: I love this site. It allows you to see the Twitter stats for any handle. You can see if the trend is for gaining followers or losing them. Also shows you how many Tweets are made everyday by any handle. Good for research and for monitoring the success of your company feeds.
Topic Search:
Google Trends
: If you are working on a news topic, this is an excellent source as it gives you insights into the traffic and geographic visit patterns.
Twazzup
: This site allows you to filter news from live Twitter content. It's good to see trending topics and influencers for a given subject. Better for topic than an author's name.
Having a social media platform for communicating is extremely important for the success of your publicity campaigns. The majority of the tools presented in this list can make communicating your messages on target and easy to manage/track. I invite you to choose the ones that help make your social media experience more productive and better still, enjoyable. Do you have a favorite tool not on this list?
For the latest on web publicity, social media news, and personal branding, follow Fauzia on Twitter:
@FauziaBurke
.