10 Important Stats for Authors
By Fauzia Burke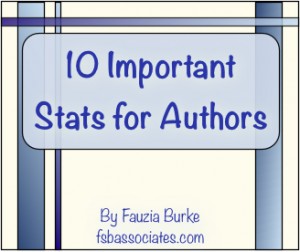 Book Buyers
2010 stats: More than 40 percent of Americans over the age of 13 purchased a book; the average age of the American book buyer is 42. Women make 64 percent of all book purchases, even among detective stories and thrillers, where they buy more than 60 percent of that genre. Source
Study 2012: Avid book buyers skew older, and female 64%; The #1 principal way of discovering new books? Personal recommendations 48.2% Source
Book Sales
Value of Book recommendations
Andrew Gelman of Columbia University writes in The New York Times: Despite the large number of acquaintances, most Americans know just 10 to 25 people well enough to trust them.
Almost half of book purchasing decisions on Amazon were made before a customer visited the Amazon site . . . They talk with their friends just like we do, they listen to the views of those they respect just like we do, they get together with like minded people, just like we do -- they use Google as a 6th sense just like we do. Source
Family and friends are the primary source of book discovery for Americans 16 and older, especially so for suburban (66%) and urban residents (66%). Some 60% of rural residents say they get book recommendations from family and friends. Similarly, city dwellers (25%) and suburbanites (24%) are more likely than rural residents (18%) to have gotten recommendations from book stores they visit. Source
Number 1 way online shoppers discover new books: in-person, personal recommendations (~15% of new books discovered this way). Source
© 2013 Fauzia Burke. All Rights Reserved.
Author Bio
Fauzia Burke
is the Founder and President of
FSB Associates
, a digital publicity and marketing firm specializing in creating awareness for books and authors. For online publicity, book publishing and social media news, follow Fauzia on Twitter:
@FauziaBurke
. To talk with FSB and ask your book publicity questions, please join us on
Facebook
.